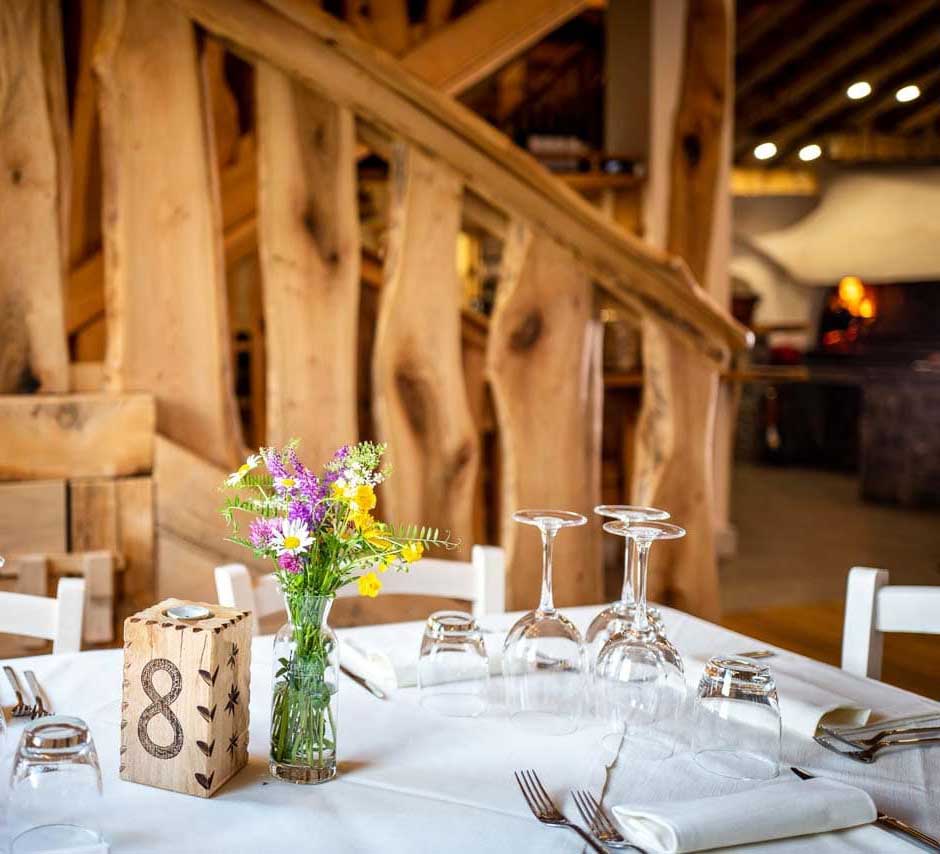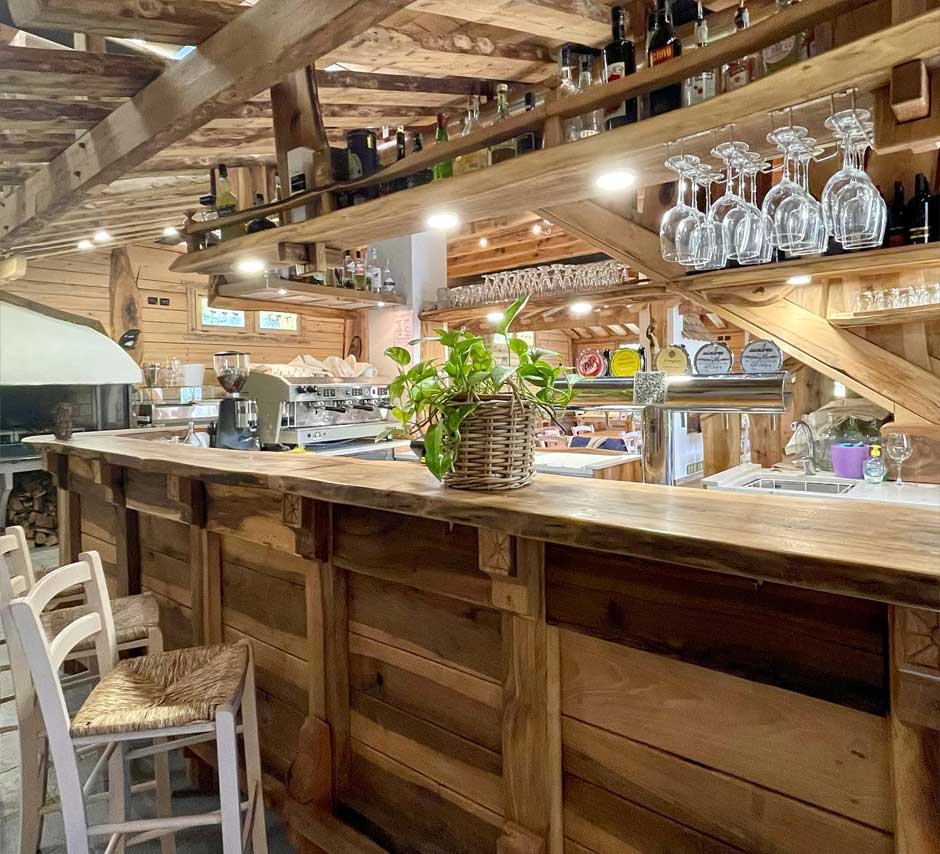 A MEMORABLE TASTY FOOD EXPERIENCE, INTO THE NATURE OF "CARNIA"
The Borgo Nomplan Restaurant is located into the Dolomiti Village, a resort of wooden chalets, among the mountains near Ravascletto – Zoncolan in Carnia. From the restaurant as well as from each chalet you can enjoy great views over the mountains, for a relaxing holiday in harmony with nature.
Surrounded by fairytale landscapes and by a welcoming and familiar atmosphere, you will savor the flavors and typical dishes of the territory, reinterpreted with creativity by our chef.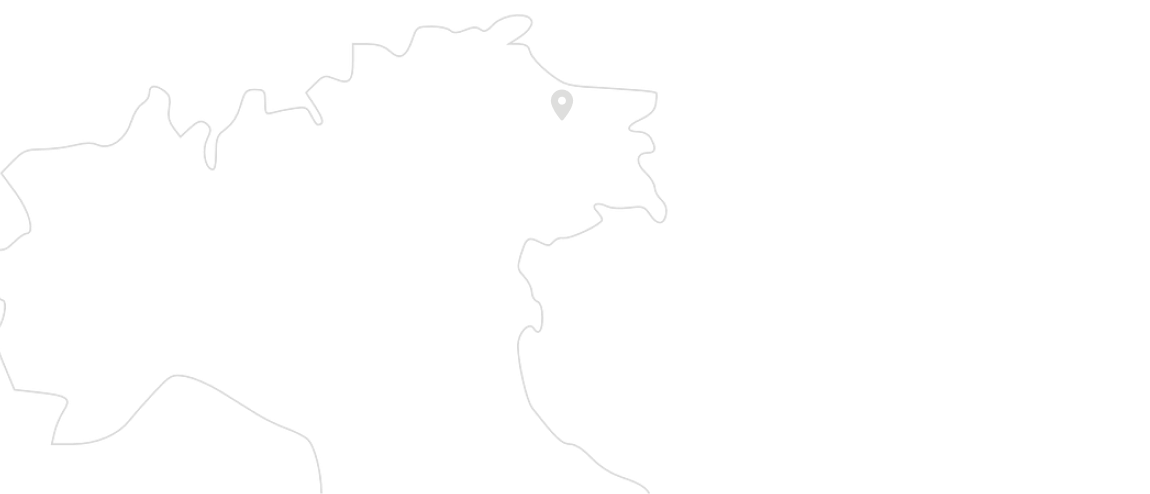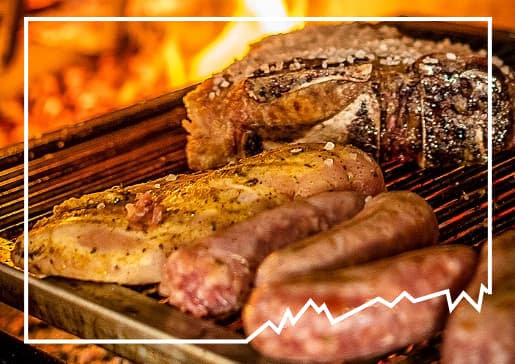 SUPERIOR CUTS OF MEAT COOKED ON THE GLOWING EMBERS
We are a point of reference for all lovers of grilled meat. Enjoy our excellent Florentina t-bone steaks, but also lamb ribs, sausages, and more. Every day we accurately select and cook the most tender, tasty, and juicy cuts of meat, to bring to the table the authentic taste of the glowing embers in the large dining room of the restaurant.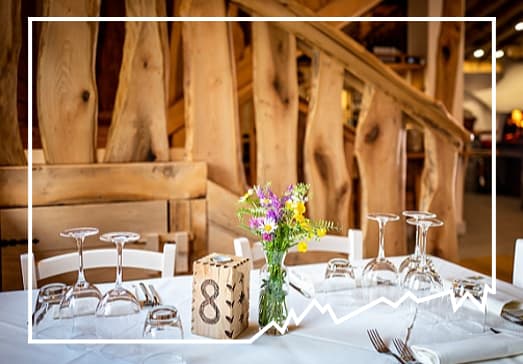 A WARM AND WELCOMING MOUNTAIN ATMOSPHERE
Warm, welcoming settings, mountain materials and a family atmosphere, all go to create a serene and peaceful atmosphere and make you fell home. A charming and elegant space where you can spend unforgettable time surrounded by wonderful Carnia mountain scenery.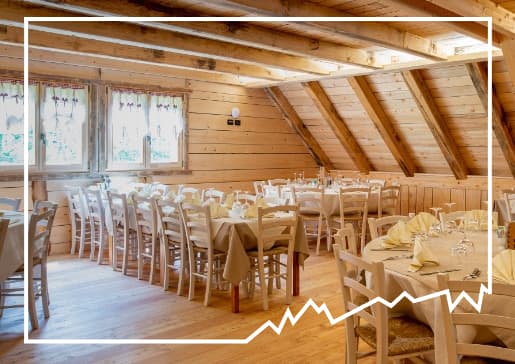 THE PERFECT PLACE FOR YOUR SPECIAL OCCASIONS
Our restaurant can host dinners and lunches for large groups. The main room, the outdoor patio overlooking the mountains, and the more private room on the first floor offer the perfect setting for private events, corporate dining, graduation parties, wedding receptions, and ceremonies. Also with personalized menus.

Our food
We love seasonal ingredients, such as local vegetables, mushrooms and mountain herbs that we collect personally. This is why our menu is constantly evolving. We offer some traditional dishes typical of the area, such as frico and polenta, salami with vinegar and "toc in braide", in addition to the excellent products of our territory, such as mountain cheeses, cured meats, pickled vegetables and smoked trout.
In addition to traditional dishes we like to explore different tastes and new recipes, sometimes trying unusual combinations, always respecting seasonality and using high quality ingredients. A menu that can satisfy even the most demanding palates, accompanied by local wines. And to tp complete the meal, try our homemade desserts.
Tortino di radicchio
€ 11,00
Su crema di formaggio Frant
Formaggi locali misti
€ 12,00
Accompagnati da mostarde e marmellate
Crostini di lardo (4 pezzi)
€ 11,00
Maialino selvatico affumicato in casa
Il tagliere di salumi locali
€ 12,00
Trota affumicata di Ovaro
€ 11,00
Su letto di misticanza con crema di castagne e guanciale croccante
Orzotto con Porro e Salsiccia
€ 12,00
Pennette alla carnica
€ 12,00
Cjarsons dolci conditi
€ 12,00
Con burro fuso e ricotta affumicata
Gnocchi di patate al sugo d'anatra
€ 12,00
Fettuccine al ragù di cervo
€ 12,00
Second dishes from the grill:
Tomahawk di suino alla griglia
€ 12,00
Tagliata di roastbeef
€ 18,00
Costata di manzo
€ 6,00 all'hg
Coscetta di pollo ai ferri
€ 10,00
Salsiccia locale con polenta
€ 10,00
(Pancetta, roastbeef, pollo, salsiccia e wurstel)
Pluma di maialino selvatico alla griglia
€ 12,00
Second courses from the kitchen:
Spezzatino di cervo con polenta
€ 12,00
Frico di patate con polenta e salsiccia
€ 12,00
Con burro fuso e ricotta affumicata
Polentino gratinato con porcini e formaggio
€ 12,00
Insalata mista di stagione
€ 4,00
Caponata di verdure
€ 4,00
Contorno del giorno
€ 4,00
Tortino con cuore caldo al cioccolato
€ 4,50
Servito con panna montata
Crostata della casa
€ 4,50
Con marmellata fatta in casa
Servito con panna montata
Pannacotta guarnita a scelta
€ 4,50
Frutti di bosco, cioccolato o marmellata della casa
Tiramisù con esse di Raveo
€ 4,50
Gelato alla vaniglia con frutti di bosco caldi
€ 4,50
Acqua frizzante microfiltrata e depurata 1 lt.
€ 1,00
Pasta al ragù o pomodoro
€ 6,00
Lasagne alla bolognese
€ 6,00
Tortellini panna e prosciutto
€ 6,00
Cotoletta di pollo alla milanese
€ 10,00
Wurstel con patate fritte
€ 10,00